Due to recent changes with the Linky site that I previously used for this challenge, I've essentially lost all of the previous links for sign-ups and review links. The Linky site apparently started charging for use of link widgets, and I opted not to pay for these services. I don't use these gadgets enough at this time to justify spending money for items that are still being offered for free on other sites. So, I'm re-posting the sign-up for The Classics Reading Challenge here, and to make things a bit easier and since there wasn't an overwhelmingly large number of participants, we'll just use this same linky for posting reviews as well. I apologize for any confusion! And it's not too late to enter for those of you who haven't done so!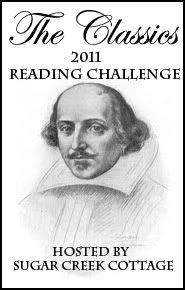 Sign Up:
To sign up you MUST make a post on your blog about participating in the challenge - you then use the URL of the post to sign up to the challenge by adding it to Mr Linky below. DO NOT just add your blog URL - this will be deleted.
You must add the button to your sidebar - make sure that it links back to this post so others can join the challenge if they wish. Easiest way to do this is to copy and paste the code displayed above!
Details:
Timeline: January 1, 2011 - December 31, 2011
Rules: To read EIGHT (8) "Classic" novels in 2011 (8 is the minimum but you can read more if you wish!)
You don't have to select your books ahead of time, you can just add them as you go. Also if you do list them upfront you can change them any time! The books you choose can crossover into other challenges you are participating in.
You can join anytime!
PLEASE LINK YOUR REVIEWS HERE AS WELL. TO LINK YOUR REVIEWS SIMPLY PROVIDE THE TITLE & AUTHOR WITH A DIRECT LINK TO YOUR POST.