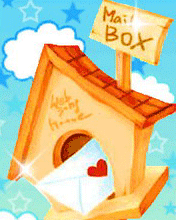 Mailbox Monday was created by Marcia of The Printed Page and is now on tour.
According to Marcia, "Mailbox Monday is the gathering place for readers to share the books that came into their house last week.
Warning: Mailbox Monday can lead to envy, toppling TBR piles and humongous wish lists."

This week I've received the following from NetGalley:
To A Mountain In Tibet By Colin Thubron
Description:
To Buddhists and Hindus alike it is the mystic heart of the world, "the source of the universe, created from cosmic waters and the mind of Brahma." It is the solitary peak of Kailas in Tibet, the holiest mountain on earth, sacred to one-fifth of humankind. While its sister peaks draw climbers from around the globe, its sacrosanct slopes remain untouched. An ancient site of pilgrimage, even today, under Chinese domination, the people of four religions circle this mountain in devotion to different gods.
Colin Thubron reached it by foot along the Karnali River, the highest source of the Ganges. His journey is an entry into the culture of today's Tibet, and a pilgrimage in the wake of the death of his mother and the loss of his family. He undertakes it in order to mark the event, to leave a sign of their passage. He also explores his own need for solitude, which has shaped his career as a writer—one who travels to places beyond his own history and culture, and writes about them and about the journey. To a Mountain in Tibet is at once a powerful travelogue, a fascinated encounter with alien faith, and an intimate personal voyage
.
It is a haunting and beautiful book, a rare mix of discovery and loss. In its evocation of landscape and a variety of exotic peoples, of mythical and spiritual traditions foreign to our own, it is a spectacular achievement from our greatest living travel writer, an artist of formidable literary gifts, uncanny intuition, and wondrous insight.
Dance Lessons By Aine Greaney
Description:
A year after her husband's death in a sailing accident off Martha's Vineyard, Ellen Boisvert bumps into an old friend. In this chance encounter, she discovers that her immigrant husband of almost fifteen years was not an orphan after all. Instead, his aged mother Jo is alive and residing on the family's isolated farm in the west of Ireland.

Faced with news of her mother-in-law incarnate, the thirty-nine-year-old American prep school teacher decides to travel to Ireland to investigate the truth about her husband Fintan and why he kept his family's existence a secret for so many years.

Between Jo's hilltop farm and the lakeside village of Gowna, Ellen begins to uncover the mysteries of her Irish husband's past and the cruelties and isolation of his rural childhood. Ellen also stumbles upon Fintan's long-ago romance with a local village woman, with whom he had a daughter, Cat. Cat is now fourteen and living with her mother in London. As Ellen reconciles her troubled relationship with Fintan, she discovers a way to heal the wounds of the past.

Deeply rooted in the Irish landscape and sensibility, Dance Lessons is a powerful story of loss, regret, and transformation.