PLEASE CLICK HERE TO GO TO UPDATED SIGN-UP AND REVIEW ENTRY PAGE
As I mentioned previously, I've signed up for several reading challenges this year, but I've decided to host a challenge of my own as well. I suppose it's my own academic background that has compelled me a great deal to challenge you to add a few of "The Classics" to your reading list this year. Now, I use the term "classics" rather broadly and this can include more contemporary classics as well such as
The Handmaid's Tale
by Margaret Atwood,
The Color Purple
by Alice Walker, or
My Year of Meats
by Ruth Ozeki. (Just to name a few of my personal favorites). If you google "classic reading list" or "Top 100 Classic Literature" you'll find numerous listings of books as well. Or if you're interested in reading solely Classic Women's Literature, or even Children's Classics you can google that as well. And I'm sure there's something for
everyone's
liking!
So far on my own list::
The Good Earth ~ Pearl S. Buck
Bread Givers ~ Anzia Yezerska
Salome of the Tenements ~ Anzia Yezerska
Anna Karenina ~ Leo Tolstoy
The Metamorphosis ~ Franz Kafka
Atlas Shrugged ~Ayn Rand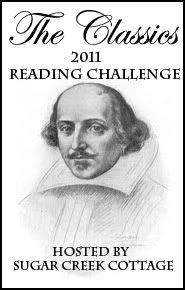 Sign Up:
To sign up you MUST make a post on your blog about participating in the challenge - you then use the URL of the post to sign up to the challenge by adding it to Mr Linky below. DO NOT just add your blog URL - this will be deleted.
You must add the button to your sidebar - make sure that it links back to this post so others can join the challenge if they wish. Easiest way to do this is to copy and paste the code displayed above!
Details:
Timeline: January 1, 2011 - December 31, 2011
Rules: To read EIGHT (8) "Classic" novels in 2011 (8 is the minimum but you can read more if you wish!)
You don't have to select your books ahead of time, you can just add them as you go. Also if you do list them upfront you can change them any time! The books you choose can crossover into other challenges you are participating in.
You can join anytime!
Later this week, I'll create a page just for The Classics Reading Challenge and each month I'll add a new linky where you can add your reviews, thoughts, comments, and so forth that you post on your blog to share with other participants. So, once you sign-up please be sure to come back and link your reviews!
PLEASE LINK YOUR REVIEWS HERE AS WELL. TO LINK YOUR REVIEWS SIMPLY PROVIDE THE TITLE & AUTHOR WITH A DIRECT LINK TO YOUR POST.